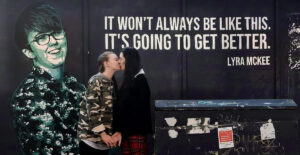 A guest post by journalist and blogger Theo Macdonald. The term ceasefire babies describes those
We are eager to engage with supporters and opponents of a border poll and promote debate with those who are undecided. If you would like to write for us, notify us about an event or like more information please email
[email protected]
.
"A border poll is going to happen at some point. Among my friends, who are all boys who are Protestants - well, men, we`re all 54 - they would really consider now what the notion of a new union of Ireland might look like, and I think there's a lot of people that think that."
"To me it simply doesn't make sense to have two national football teams on an island this size never mind two health systems, two education systems and two governments. As an Irish citizen, I want the island of Ireland to be reunified under a government for all our people."
"You don't feel like there is a border anymore and we have lived for many years now with that feeling and the feeling is great for all of us.... It's only six counties of Ireland now and one of these days it will it'll be 32 and that`ll be the end of it."
"The unification of Ireland is inevitable... There are things that are happening that are outside the control of politicians. There is a movement of people and the imagination of people... There is nothing logical about a partitioned island. Let`s just quietly move on to unity."
"It has always been a deeply dispiriting business being a Northerner and nothing has changed. It is still a deeply dysfunctional, non-viable entity, triumphalist, institutionally racist, sectarian, homophobic and almost completely segregated. ....Things are not going to change, so a united Ireland is the only viable solution."